Charles Dickens in 2nd Duke of Wellington Personal Autograph Photo Royal Album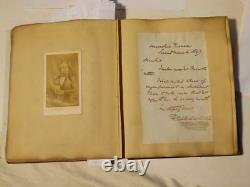 18thC 2nd Duke Wellington Personal Autograph CDV Royalty Album Charles Dickens. Colours may differ due to any flash used. Serious Collector or Museum archive item. This item is at the bank and I will need a little notice before you come to veiw it.. And to be honest with you I NEVER veiwed this album before I bought it... It cost me a small fortune... If you are, like me.... Are interested in this sort of UNIQUE - ONE OFF entire's, letters and signatures of FAMOUS PEOPLE from the 18-19th Century you will love it...
This album is a TREMENDOUS item of social history from the 18 - 19th Century... It would be such a shame to SPLIT this album up... This sort of album was a pastime for the very RICH folks back in the Victorian period....
Some grand houses, Lords & Ladies of the country house estates would COLLECT this sort of thing... Often you will see albums full of EMBOSSED FAMILY CRESTS & MONOGRAMS from letter heads of the famous people of the time.. Goes a little further than that... It is on a differant scale... Very few people during this time would be able to collect this sort of item....
And you would have to be within the circle of Royalty, Dukes, Lords & Ladies etc... To even come near to getting a hold of some of these letters.. UNLESS of course they were sent to YOU or someone close related to you. This album has been the personal album belonging to 2nd Duke of Wellington ARTHUR RICHARD WELLESLEY 1807 - 1884. He was the eldest son of 1st Duke of Wellington Arthur Wellesley.
The whole SPINE curved part is LOOSE... The small bit of leather is with it but loose from the top left side.... Inside it has nice marbled paper within the covers. Has pencil wording top left corner..
Anyway thats only part of the MYSTERY of the book.. You will find that most of the letters are to the Duke of Wellington from the people with whom he was in circles with. Thats why there are so many interesting items within the book.. When you google search this name. It is MOST INTERESTING too..
Then it has 2 later added lined paper pages with an INDEX and each SURNAME is in alphabetical order... All written by the same hand.... Some have more than one page....
99 on this written index. Here I will just tell you how many items there are within this book.... These are my countings and findings... TOTAL of 148 items pasted - stuck in the book. Grand total of 227 items of interest. Split up into the following.... 110 signatures - autographs on the letters, envelops and on the cut paper ones, 30 x CDV small and large sepia cabinet - carte de viste photographs, 75 letters... I see quite a lot of the letters are written on Mounring paper..... With the black outer line.....
The letters are not in relation to Mourning.. So they must have just used paper that was handy.. As most of the letters are replies to them in relation to Invites of a Concert or Ball held by the Duke and Duchess of Wellington... Unless it was tradition then..
Had you had a death in the family.. You would send ALL letters with black lines around them... So I'm a little puzzled here...
Most of the letters have signatures upon them, 6 of the letters have the envelope fronts with them and they have signatures too, 1 x cheque which is signed, 1 x Queen Victoria seal with signature, and 4 print engravings to show the reader what the person looked like.. 2 items in the very front are LOOSE.
You will see the pages have ALL got something stuck in them.. It makes the pages crinkle and go out of shape.. You can see on some pages where the years of dust and muck has gathered in the areas where the draft could blow in.. This is NORMAL for this type of scrap like book...
Buyers of this sort of items will know this is NORMAL.. Be aware it is NOT in mint flat condition... But again that is what we all know as being " RIGHT "...
This album is really TREMENDOUS and worthy of being in a MUSEUM or SERIOUS PRIVATE COLLECTION alike. There are items pasted to the pages... Small bits of paper with signatures and autographs... Some you will see are typical of the period...
CUT signatures, meaning they have been cut off larger documents, letters etc... As I look through it again and again I see quite alot of letters addressed to. Dear Duke, My Lord Duke, My Dear Duke, My Dear Sir, My Dear Duke of Wellington. With dates on these letters 1860, 1863 and addressed to Apsley House.
The person that owned this book and stuck them all in COULD have been a relation of the Duke of Wellington... Or someone associated with his family.
Loose in the front is a print picture of Her Royal Highness THE DUCHESS OF KENT.. Also a blue bit of torn paper..
He is not on the Index. The dates cover from 1785 or so right thru to about 1882 or so I think... The early ones tend to be on the CUT King George signatures.. The MAJORITY are letters written in the 1860's - 70's really addressed to The Duke of Wellington.
So we are at the INDEX now... I only have space for 24 PHOTOGRAPHS on this listing..
With the abundance of WEALTH within the book... Plus I have to show you the CONDITION of the book too... Plus where do I start describing whats in it... I could just reel off the INDEX.. Well some I cannot even read.. But they start with PRINCE ALBERT - PRINCE ARTHUR - DUKE DE AUMALE - EARL OF ABERDEEN - LORD ARUNDLE - KING OF BELGIANS - LORD BINGHAM - ELIHA BURRITT - PRINCE LUCIEN BONAPARTE - LORD GEORGE BENTINCK - LORD BRAYBROOKE - (MP) JOHN BRIGHT - EARL BEAUCHAMP - unidentified last on the B's - Late DUKE OF CAMBRIDGE - DUKE OF CAMBRIDGE - EARL CLARENDON - LORD COWLEY - LORD CLYDE - (MP) T. COKE - LORD CAMPBELL - LORD CRANWORTH - LORD COLVILLE - LORD CLANWILLIAM - CALTHORPE - (MP) ED CARDWELL - CHARLES DICKENS - LORD DALHOUSE - (MP) BENJAMIN DISRAELI - SINGH DULEEP - (MP) J E DENISON - LATE EARL DERBY - SIR HENRY ELLIS - GOVERNOR EYRE - DUKE OF EDINBURGH - COUNT FLANDERS - KING GEORGE IV - KING GEORGE III - unidentified - (MP) BRAMPTON GURDON - EARL OF GRANVILLE - PRINCE OF HOLLAND - J O HALLOWELL - LORD HERBERT - KING OF HANOVER - PRINCE F HOLSTEIN - LORD HOUGHTON - MARQUIS LORNE - EDWARD BULWER LYTTON - SIR EDWIN LANDSEER x 2 - LADY LEICESTER - LORD LYTTON - (MP) ROB LOWE - PRINCE LEOPOLD - DUCHESS OF MECHLENBURG - G MAZZINI - LORD MELBOURNE - THOMAS MOORE - J MITFORD - LORD MACAULEY - SIR RODERICK MURCHISON - SIR WILLIAM STERLING MAXWELL - THE 3rd EMPEROR NAPOLEON - J S NICHOLS - OXFORD Bp..
Could mean BISHOP of OXFORD there is no number next to this name - SIR ROBERT PEEL (MP) - LORD PALMERSTON (MP) x 2 - SIR I PALKINGTON (MP) - SIR EDWARD PARRY - SIR FRANCIS PALGRAVE - DUKE OF PORTLAND - THE QUEEN x 2.. This is QUEEN VICTORIA - LORD JOHN RUSSELL (MP) - Sir or Sam or John ROGERS - EARL OF RIPON - JOHN ARTHUR ROEBUCK - DUKE OF RICHMOND - PRINCE EDWARD SAXE WEIMAR - LORD SYDNEY - LORD STANLEY - ALBERT SMITH - LORD St LEONARDS - EARL STANHOPE - MARQUIS SALISBURY - DUKE OF SUSSEX - MARQUIS TWEEDALE - WILLIAM MAKEPEACE THACKERAY - SIR J TROUBRIDGE - LORD TOWNSEND - WILLIAM IV - PRINCE OF WALES - 1st DUKE OF WELLINGTON - 2nd DUKE OF WELLINGTON - LORD WODEHOUSE - SYLVAIN VAN DE WEYER - SIR ARCHDALE WILSON - LORD WESTBURY - DUKE OF WESTMINSTER - Bp of WINCHESTER... So as I have been looking thru the fascinating book I can read some of the letters..
These may well be HISTORICALLY IMPORTANT too... As a lot are addressed to The Duke of Wellington and are in relation to him sending people Invitations for a CONCERT & BALL on differant dates 1860 and 1873..
These letters are their replies to him....... Also I see on page 27 there are only supposed to be 2 items according the the Index on this page and there is a 3rd item.. Its a letter with the embossed address wording on the top BUCKENHAM HOUSE BRANDON.. The letter is signed by W BARING..
This applies the other way as well.. As I've just cross checked it.. There are 4 pages with more or less items on them than it says in the index....
I think the Index and pages numbered has been done at a later time... Maybe not even by the same original owner...
Anyway that does not really matter. Also I have noticed the name GURNEY. Typical of the period they have the embossed coloured address at the top..
And the Royal connected ones have Crowns or Monograms of initials.. WINDSOR CASTLE VR Prince Leopolds letter is addressed from Windsor Castle 1873 but has a gilt ENGLISH ROYAL CYPHER but has unknown Initials in the centre - NAPOLEON letter and envelope have the Cypher - MARLBOROUGH HOUSE - BUCKINGHAM PALACE - CLARENCE HOUSE - MARQUIS LORNE - PRINCE GEORGE OF CAMBRIDGE - St JAMES PALACE - 72 PORTLAND PLACE - WALMER CASTLE - 35 THURLOE SQUARE - 33 GROSVENOR SQUARE - GROSVENOR HOUSE - LORD LYTTON - LADY LEICESTER - LORD HOUGHTON - WARDOUR CASTLE - NORTH END LODGE , WALTHAM GREEN - 1 CARLTON GARDENS - BOARD OF GREEN CLOTH - MULGRAVE CASTLE , WHITBY , YORKSHIRE - EARL OF DERBY - SIR RODERICK MURCHISON , GEOLOGICAL SURVEY OFFICE - 1 MANSFIELD STREET - LAVINGTON HOUSE PETWORTH - 42 EATON PLACE - 11 DOWNING STREET , WHITEHALL.
Then to change the subject slightly... The original photograph CDV are of QUEEN VICTORIA - PRINCE CONSORT - PRINCE GEORGE , DUKE OF CAMBRIDGE - DUCHESS OF MECKLENBURG - PRINCE EDWARD SAXE WEIMAR - KING OF HANVOVER - COUNT FLANDERS - PRINCE HENRY d'ORLEANS , DUKE OF AUMALE - LORD BROUGHAM - LORD J RUSSELL - PALMERSTON - EARL CLARENDON - LORD STANLEY - LORD CLYDE - CHARLES DICKENS - WILLIAM THACKERAY - loose large CDV of a Gentleman in a KNIGHTS TEMPLAR masonic outfit - ALBERT SMITH - LORD WODEHOUSE - LORD CAMPBELL - LORD MACANLY - MAHARAJA DULEEP SINGH , later known as the BLACK PRINCE OF PERTHSHIRE - SIR REGINALD MUNCHINSON - LORD HERBERT - ROEBUCK - LORD TOWNSEND - BRAMPTON GURDON - DENISIN - LORD WESTBURY. The letter to the Duke of Wellington dated April 4th 1876 from Paris, Avenue Montaigne No.
It has a SCRAWLY signature... But the letter has been written by a differant hand.. This is due to the fact the King of Hanover was BLIND.. A small bit of paper also stuck in says he is stone blind, which of course only signed the letter... The LETTER is very interesting though...
And he is thanking the Duke for sending 2 original letters of the late King to the Dukes father and they were forwarded to him from a Baron... The contents of the letters were very valuable to him as they proved how clearly the King was aware of the Prussians policy towards her neighbours and how firmly he withstood every incroachment of that power against his kingdom and consequently that if he had lived in 1866 he would have acted as he had done. These letters are important besides their political importance, be always cherished by me and sacred relics, having been written to my late and ever lamented father to your father whose fame will never fade and since they were given to me by you, his son , who, as I know has in every way inherited his attachment to the Royal House of Hanover and its holy cause , I remain dear Duke , yours most sincerly....
Another letter is to My Lord Duke 1863... And its from Prince Frederick of Holstein in regard to the Dukes invitation to Her Majesties Birthday celebration.. He is unable to attend as hes otherwise committed. There is a letter with it... A letter dated 16th June 1860... From THE COUNT OF FLANDERS is on BUCKINGHAM PALACE headed paper... These may be of interest to some people too..... The Napoleon letter has CHISELHURST C MR 31 71 and a duplex mark over the one penny red LE EL. The envelope on page 9 from the Late Duke of Cambridge has red circle PAID FC then another line of wording and 1843... Also a circle in black with TOO LATE GPO..... And another circle in black? ETFORD JY 19 184 A. There is a 1 d penny red GT TG with a duplex 922 oval and it has a WORKSOP C AP 26 76....
Has a red circle LONDON OFFICIAL PAID L C 18 NO 75.... Another on a cut signature of LORD CRANWORTH says in a black circle..
And another of LORD WESTBURY has no stamp but a red circle with OFFICIAL PAID LONDON V JA 8 62. Page 31 has the famous Charles Dickens small photo cdv which has pencil wording below it Charles Dickens.... And on the opposite page his letter is interesting....
Dera Sir, I enclose you Mr Prescotts letter. I shall be glad to hear of any improvement in?? Please to take care that Mrs Hogarth has the?
(these last 3 words I dont understand quite)... With the really nice scribbly underlining he did.
The book is approx 7 and half inch x 9 and half ich x 2 and 1/4 inch deep. Please see close up pictures for more detail. The item(s) are shown next to an English 1 penny which is 20mm dia for scale. 2.5cm = 25mm = 1 inch. Once an item is the in the postal system any delays are out of my cont rol. See the date it was sent. Sent back to me in the condition you received it in. Get Images that Make Supersized Seem Small.
Tailor your auctions with Auctiva's. The item "Charles Dickens in 2nd Duke of Wellington Personal Autograph Photo Royal Album" is in sale since Thursday, December 21, 2017.
This item is in the category "Books, Comics & Magazines\Antiquarian & Collectable". The seller is "diggerlee" and is located in Yorkshire.
This item can be shipped worldwide.
Non-Fiction Subject: unique historical importance
Country/Region of Manufacture: United Kingdom
Fiction Subject: NON FICTION
Binding: softcover
Original/Reproduction: Original
Region: Great Britain
Illustrator: SIGNATURES OF FAMOUS PEOPLE
Author: belonged to 2nd Duke of Wellington
Original/Facsimile: Original
Language: English
Character Family: DUKE OF WELLINGTON
Publisher: manuscript
Place of Publication: Great Britain
Special Attributes: Limited Edition

---