DAVID HOCKNEY A BIGGER BOOK Art Ed. A (45/250) SIGNED SEALED SOLD-OUT Taschen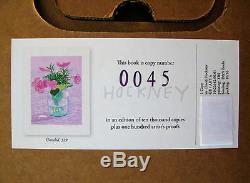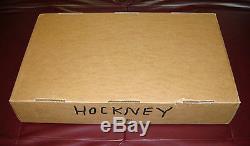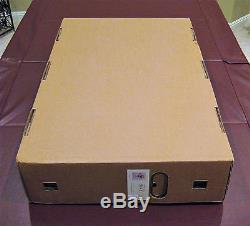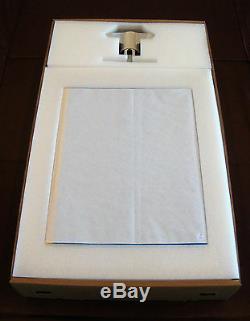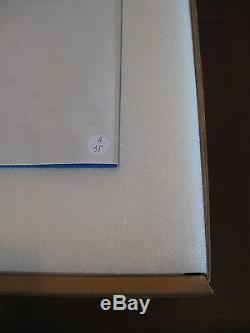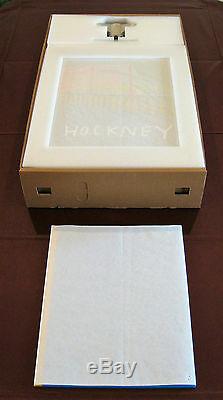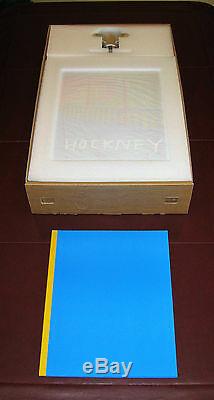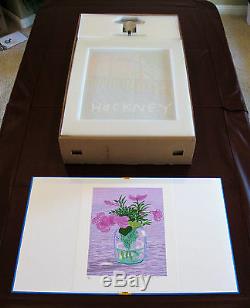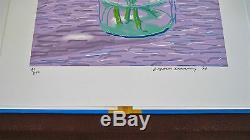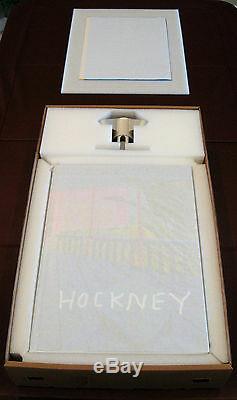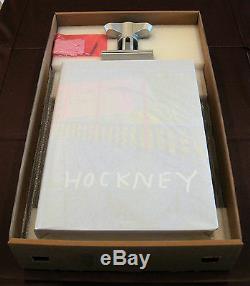 Monograph , is as spectacular in format as it is in scope. In it, the artist takes stock of more than 60 years of work, from his teenage days at the Bradford School of Art, through his breakthrough in 1960s Swinging London, life by Los Angeles pools in the 1970s, up to his recent extensive series of portraits, iPad drawings, and Yorkshire landscapes. Never before has Hockneys oeuvre been published on such an astonishing and immersive scale.
As each page unfurls in a blaze of blues, pinks, greens, and oranges, we are spellbound both by the artists vibrancy as a colorist and his extraordinary sense of the conditions of the world that surrounds us. Through Hockneys restless interrogation of perception and representation, we witness the mellow sheen of light on a muddy Yorkshire puddle, the ochre enormities of. With the exquisite sparkle of a turquoise pool beneath an iridescent California sky.
These major paintings are joined by the artists drawings, photo-composites, multi-perspective collages, stage designs, multi-camera video works, and iPad drawings , each a panoply of looking and showing in different styles and media. Hockney himself is present in every aspect of the publication.
He collaborated closely through all production stages and conceived of this book as a purely visual survey of more than 450 works prefaced by a handwritten programmatic statement. As an artist who rarely looks back, the vast volume is as much his own personal review as it is a definitive record for art lovers all over the world. I dont tend to live in the past, he comments, Working on this book, I see quite how much I have done. To add to the sumptuous portfolio, the monograph also includes an illustrated chronology of 680 pages, contextualizing Hockneys art with drawings, graphic work, portrait photos, and text based on the artists own writings as well as contemporary reviews.
This limited Art Edition of. Offers the most lavish presentation of Hockneys monograph, with an exclusive ink-jet print of one of Hockneys famed iPad drawings , printed under the artists supervision in his Los Angeles studio. The work shows delicate pink peonies and ferns in a glass vase and forms part of Hockneys celebrated flower series on iPad and iPhone, testimony to his ongoing experimentation with artistic tools.
Theres magic in an iPad, the artist comments, Its the same magic thats in a pencil or pen or brushes. Limited Art Edition of 250 signed copies; each with iPad drawing. 2010, printed on archival paper, signed by the artist and numbered; and a Marc Newson. Hardcover, 498 pages, 13 fold-outs, 50 x 70 cm 19.7 x 27.5 in. ; with iPad drawing Untitled, 329 , 2010, signed by the artist and numbered, 8-color inkjet print on cotton-fibre archival paper, 33 x 44 cm 12.9 x 17.3 in.
On 43.2 x 56 cm 17 x 22 in. Paper; an adjustable bookstand by Marc Newson; and an illustrated 680-page chronology book. To view further explicit details regarding the superbly crafted signed Print, signed SUMO-sized Book and custom-made Bookstand, DAVID HOCKNEY: A BIGGER BOOK Art Edition A, No.
Hockney named Britain's most influential artist. According to a poll of 1,000 British painters and sculptors, Hockney is the most influential British artist of all time. David Hockney with his oil painting, Bigger Trees Near Warter. David Hockney is the most influential British artist of all time, according to a poll of 1,000 British painters and sculptors. Neither Damien Hirst nor Tracey Emin made the top 10 in a nationwide survey that is both revealing and damning for the Young British Artists.
Turner Prize winners and nominees have been eclipsed by Turner himself, who was voted into second place. The YBAs are constantly showered with accolades by curators, collectors and critics, supported by an art market PR machine that ensures they are rarely out of the limelight. Yet, as this poll suggests, they fail to inspire other artists - one of the tests of great talent. Instead, contemporary artists look for inspiration in 20th-century masters such as Francis Bacon, Lucian Freud and Stanley Spencer, as well as the 18th-century master Gainsborough.
Of contemporary artists, Grayson Perry, the eccentric potter, Sir Peter Blake, the pop artist, and Banksy, the graffiti artist, have been singled out by their peers as major influences, but those conspicuous by their absence from the Top Ten, apart from Hirst and Emin, include Jake and Dinos Chapman, best-known for defacing Goya prints, Mark Wallinger, who videoed himself dressed as a bear, and Marc Quinn, who made a head out of his own blood. Nor are Antony Gormley, who made the giant Angel of the North, or Anish Kapoor, whose spiralling tower marks the London Olympics, towering figures for todays sculptors. Rubbing salt into the wound of excluded artists is the inclusion of Jack Vettriano, the self-taught painter of The Singing Butler who has long been spurned by the art establishment, dismissed as the Jeffrey Archer of the art world, perhaps because his art sells so well on greeting-cards and posters. Hearing of the polls findings, Julian Spalding, former director of the Glasgow Museums and an art writer, said: Its very refreshing that artists are using their eyes and making judgments independent of the art market.
Its refreshing too that theyre mentioning artists who could actually influence somebody; because how does Damien Hirst influence anyone? When they come to do their own work, [artists] realise they cant follow [them]. You have to look at someone whos created something to be inspired. Hockneys top, I think, because not only does he make things, but he has this wonderful enthusiasm for looking and making.
Hes valued for what he actually does rather than what he says he is. David Juda, a leading art dealer who represents Hockney, said of the poll: That is one of the nicest things Ive heard for a long time - not because its one of my artists. It shows that, however much PR is pushed on the public, the public still has a mind of its own. With the most incredible PR that there is on Hirst and Emin this is fascinating.
Selby Whittingham, a leading Turner scholar, described the polls findings as encouraging, reflecting perhaps that the moment of the YBAs is passing. A thousand artists, between the ages of 20 and 65, applied to participate and took part in the survey. They included recent art school graduates and established artists. A hundred artists were chosen to exhibit at the fair, which runs at The Bargehouse on the South Bank, from Friday until Sunday [25-27].
One of the selectors, the artist Charming Baker (real name Alan Baker) - whose collectors include Hirst - defended the polls rejected artists: Ask the question in 10 or 15 years time and therell be a whole different set of artists. Another selector, Godfrey Worsdale, Director of the Baltic Centre for Contemporary Art in Gateshead which is hosting this years Turner Prize described the Top Ten as a pretty sound list in most respects. He dismissed the suggestion of any insult to the rejected artists: Theyre very highly regarded, cemented into art history.
The White Cube Gallery, whose artists include Hirst, Emin and the Chapmans, declined to comment. Top Ten most influential British artists, according to a poll of 1,000 British painters and sculptors. 1-250 (#45) , published by Taschen Books. Check out my other items. Be sure to add me to your favorites list. "ANOTHER SIDE OF BOB DYLAN" SIGNED-LP (1 of 2) + SIGNED-PRINT (18/25) w/ 5-COAs. INCREDIBLY RARE and UNIQUE (ONE-OF-A-KIND) SET!! "DAVID HOCKNEY: A BIGGER BOOK" Art Ed. NAMED BRITAIN'S MOST INFLUENTIAL ARTIST OF ALL TIME!! 2 LOU REED Prints (1 of 5) w/ Book David Bowie-Velvet Underground-An. LOU REED SIGNED JUST PRIOR TO HIS SAD & UNTIMELY DEATH. JIMMY PAGE (Signed) ARTIST PROOF (AP) Print w/ COA (1 of ONLY 1) - Led Zeppelin. I SUKITA (Co-Signed) "FASHION" Print (20/20-LAST ONE) w/ COA. 6 JIMMY PAGE (Signed) "COMPLETE SET" of LPs / CDs / Box Sets - Led Zeppelin. LOU REED Print (1 of 5) w/ Book (David Bowie; Velvet Underground; Andy Warhol). A (#2 of ONLY 100) Taschen Books. JOHN LENNON (Signed) Print w/ COA (1 of ONLY 25) by RINGO STARR (Beatles). Moonage Daydream; From Station To Station; Speed Of Life. Concert For George: PAUL McCARTNEY (Signed) Program + Ltd. DELUXE Box Set + Book. JOHN LENNON and GEORGE HARRISON (Signed) Print by RINGO STARR (9 / 25) w/ COA.
A (#5 of only 100) Taschen Books. By ALBERT WATSON Art Ed.
A "PRINCE" (18/50) Taschen Books. "JIMMY PAGE" & "ANTHOLOGY" (DELUXE) Books w/ MATCHING #'s (271/350) Led Zeppelin. PAUL McCARTNEY and RINGO STARR (Signed) Print by RINGO STARR (9 / 25) w/ COA. PAUL McCARTNEY (Signed) Print w/ COA (1 of only 25) by RINGO STARR (Beatles).
IAN ANDERSON & JETHRO TULL (Signed) LP "Broadsword and the Beast" MFSL/OMS (1/1). MFSL/OMS ISSUED ONLY (1) AUTOGRAPHED LP ONE-OF-A-KIND!
ROLLING STONES Rare 1978 "Some Girls" (BANNED) Promo Poster and Album w/ COA. JIMMY PAGE (Signed) "DEATH WISH II" LP (1 of 1) Donated to Charity--Led Zeppelin. "ROLLING STONES SET LISTS: SET IN STONE" Signed/Sealed.
Te Set w/COAs 1 of 250 ea. ERIC CLAPTON & KEITH RICHARDS (Co-Signed) BLINDS & SHUTTERS 1/30 Rolling Stones.
PAUL WELLER: A Thousand Things; Into Tomorrow; 2-Prints (The Jam;Style Council). "JIMMY PAGE: THE ANTHOLOGY" Ltd. Book (313/350) - Led Zeppelin. PINK FLOYD: INSIDE OUT (Signed) by NICK MASON 342/500 Roger Waters-David Gilmour. SIX-STRING STORIES (Signed) by ERIC CLAPTON - (Cream; Ginger Baker; Jack Bruce). Jimi Hendrix; Janis Joplin; The Who; Santana; Grateful Dead; CSNY; CCR;The Band. BECK 01 (Event Copy-SIGNED) by JEFF BECK Ltd.
Book (1 of 50) Genesis Pub. BECK 01 by JEFF BECK (Signed) DELUXE Ltd. BIG: BEATLES IN GERMANY - Special White Label Copy (61/100) Genesis Publications. ROLLING STONES: TOUR OF THE AMERICAS'75 Genesis Publications DELUXE Ed. SUMMER OF LOVE by GEORGE MARTIN (Beatles) Genesis Publications DELUXE Ed.
JIMMY PAGE (Signed) "LED ZEPPELIN" 2001 Calendar - Donated to Charity. "HELLO, GOODBYE: THE BEATLES IN TOKYO, 1966" (Deluxe) Ed. REBEL MUSIC: BOB MARLEY (Signed) by ERIC CLAPTON Genesis Pub. Ote Bag Ace Hotel 11-12-14 Led Zeppelin. "FACES: 1969-75" Rod Stewart; Ronnie Wood; Kenney Jones; Rolling Stones; The Who.
JIMMY PAGE (Signed) "LED ZEPPELIN" 2-DVD Set - Donated to Charity. "TAKEN BY STORM" by STORM THORGERSON (Signed) Ltd. SUNSHINE OF YOUR LOVE (Signed) by ERIC CLAPTON (Cream-Ginger Baker-Jack Bruce).
Tom Petty; Bob Dylan; George Harrison; Jeff Lynne; Roy Orbison; Beatles. THE TRAVELING WILBURYS Genesis Pub. "ELO: WIMBLEY OR BUST" by Jeff Lynne (Signed) DELUXE Ltd. JIMMY PAGE (Signed) "LED ZEPPELIN" (4-cassette) Box Set - Donated to Charity. ROLLING STONES: "C--KSUCKER BLUES/BROWN SUGAR" (Different Version) 12 Single.
LITTLE RICHARD COLLECTION: (23) LP ALBUMS - OBTAINED ALMOST 40 YEARS AGO!! HEROES & VILLAINS by DAVID STEEN Genesis Pub.
#202/350 Signed by SIR ROGER MOORE. "LED ZEPPELIN - LIVE TIMES" (Signed) Ltd. JIMMY PAGE Ticket/Book stamped EXCLUSIVELY at Cadogan Hall 10-15-14 Led Zeppelin. RINGO STARR (Beatles)'VIP' Pass/Book/Extr. As at El Rey Theatre, L. RONNIE WOOD (Rolling Stones)'HOW CAN IT BE? Commemorative Bookplate (1 of 350). The item "DAVID HOCKNEY A BIGGER BOOK Art Ed.
A (45/250) SIGNED SEALED SOLD-OUT Taschen" is in sale since Saturday, March 18, 2017. This item is in the category "Art\Art Prints". The seller is "tablequeen2" and is located in Bakersfield, California. This item can be shipped worldwide.
Print Type: 8-Color Ink-Jet Print
Edition Size: 250
Artist: David Hockney
Listed By: Dealer or Reseller
Subject: Hockney Named Britain's Most Influential Artist
Signed: Signed and Numbered
Edition Type: Limited Edition

---