Hilary Pepler / The Three Wise Men A Nativity Play Limited Signed Edition 1929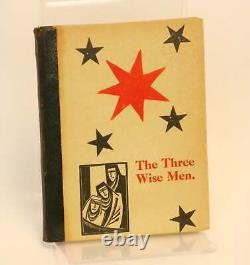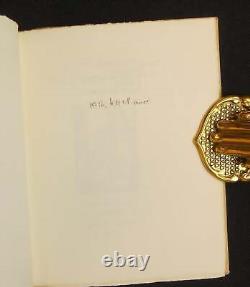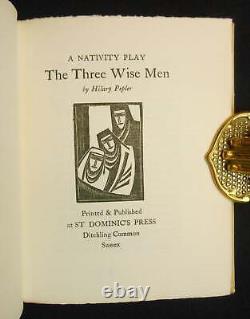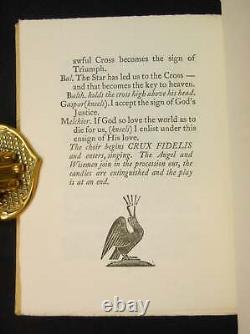 The Three Wise Men; A Nativity Play. Author: Pepler, Hilary Title: The Three Wise Men; A Nativity Play Publication: Ditchling Common: St Dominic's Press, [1929] Edition: Limited Edition.
16 of 100 copies, twenty-fourmo size, 68 pp. Initialled and numbered by Hilary Pepler. The Saint Dominic's Press, founded by Harry (Hilary) Douglas Clarke Pepler, flourished at Ditchling, Sussex, from 1916 to 1936.
The first home of the Press was "a disused stable", with a hundred-year-old Stanhope hand-press which supposedly had belonged to William Morris. Pepler endeavored to do everything possible by hand, believing that such would both produce the best results and also be a more individual or'humane'... He therefore preferred the handpress to the machine, handmade to machine-made paper, and handset founder's type to the products of typesetting machines. Pepler met Edward Johnston and Eric Gill while living in Hammersmith; Pepler and his family would eventually move to Ditchling to join Gill, who was one of the most important artists to provide illustrations for the St. Other artists who provided illustrations for the Press included David Jones, Desmond Chute, Philip Hagreen, and Mary Dudley Short, among others.
This work one of Pepler's plays in which he imagines the Three Wise Men and their journey to Bethleham, taken from the Gospel of Mt. Pepler "had his own puppet theatre at Ditchling" and his puppets performed another of his plays, "The Ox and the Ass", at an international marionette festival in 1929. ___DESCRIPTION: Bound in quarter black leather over paper-covered boards, the front board repeats the title-page illustration on the lower left with red and black stars around and red lettering, the back board with three black stars, top edge rough-cut, fore- and bottom edges uncut, numbered and initialled by Hilary Pepler on the recto of the list of plays by Pepler p.
[v], title page wood-engraved illustration of the three kings and tailpiece illustration (no attribution of artist); twenty-fourmo size (5 13/16" by 4 1/2"), pagination: [i-xviii] 1-46 [1, blank] [1, colophon] [2]; limited edition of 100 copies initialled and numbered by Pepler and printed on hand-made paper, this no. 16; note that there were also 500 copies on machine-made paper.
___CONDITION: Near fine: the boards without noticeable wear, the corners straight and without rubbing, a strong, square text block with solid hinges, the interior clean and bright, and entirely free of prior owner markings; a bit of wear on the spine (mostly at the head and tail, with light loss at the head), light rubbing to the stars on the front baord and toning to the endpapers. ___CITATIONS: Taylor and Sewell, no.
A175; note that the quotes and much of the introductory information from "Three Private Presses" by Brocard Sewell. ___Swan's Fine Books is pleased to be a member of the ABAA, ILAB, and IOBA and we stand behind every book we sell. Subject: Eric Gill, Fine Press, Performing Arts.
Swan's Fine Books is an open shop located in the San Francisco Bay Area. We offer quality used, collectible, and rare books in a wide variety of general interest subjects. While we specialize in illustrated books, fine press books, and Californiana, we have books in many areas. We are members of the leading bookselling organizations, including the ABAA, ILAB, and IOBA.
We guarantee the condition of every book as it's described. Our books are bubble-wrapped and securely packed in cardboard, with larger books always packed in a box. Please give us advance notice of any book(s) you need to return, thank you. This listing was created by Bibliopolis.

---