Techniques of Graeco-Egyptian Magic Deluxe Grimoire Signed Stephen Skinner RARE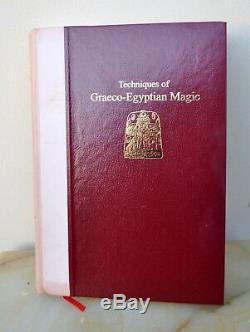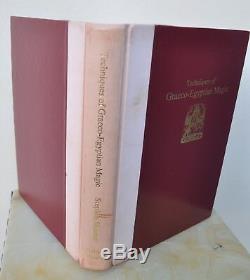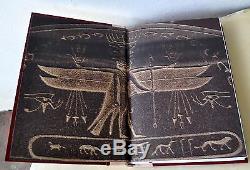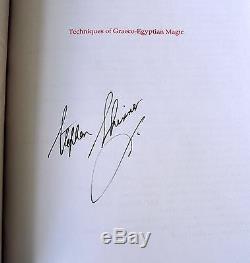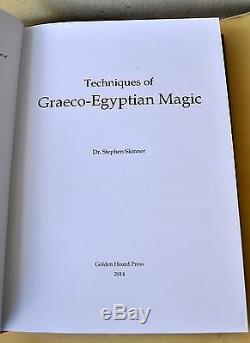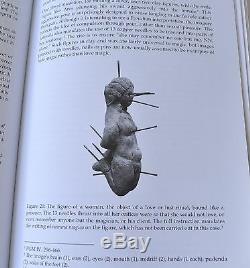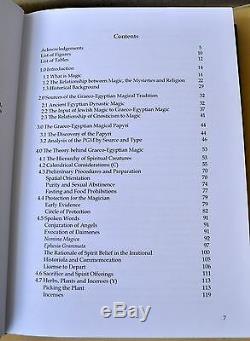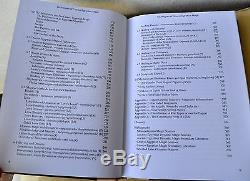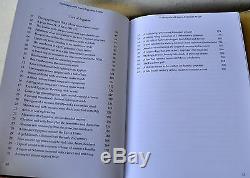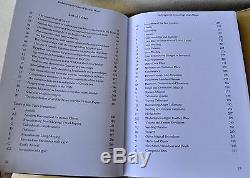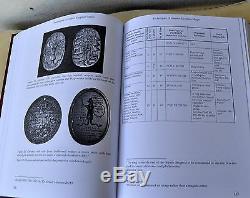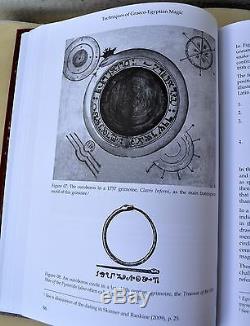 Techniques of Graeco-Egyptian Magic Deluxe Grimoire Signed Stephen Skinner RARE. Deluxe Leather Edition Published by the Golden Hoard Signed by Stephen Skinner Limited Edition of 100 Copies.
Golden Hoard Press, Singapore, 2014. Limited Edition - One of only 100 copies. This is the very rare and sought-after deluxe leather edition of.
Keys to the Gateway of Magic. This is the most rare, and hard to find Golden Hoard Press deluxe edition. This is an essential reference work, for anyone interested in studying or working with Graeco-Egyptian Magic. This is a treasure trove, spanning 388 pages, and includes numerous illustrations, tables, and detailed instructions, that will allow any adept magician, bring the ancient spells of Egypt, back to life!
This was limited to 100 (un-numbered) copies, and has been signed by the publisher/author, Stephen Skinner. This important work would make a significant addition to any serious occult library. This is the only copy I have available, so don't miss out.
This book uses academic tools to uncover the techniques which were actually used by Graeco-Egyptian magicians. This book will really strengthen your understanding of magic and its roots. After reading it magic will no longer be something to theorise about, but a real practice, a real interaction with divinities, daimones, spirits and even the dead, using evocation, invocation, skrying, dream techniques, talismans, amulets, defixiones , sacrifice and spirit offerings, ensouling magical statues and consecrating rings. It also explains the necessary protection for the magician, the circle and phylacteries.
Magical objectives include love (by attraction, compulsion, insomnia and loves leash), health, invisibility, foreknowledge and memory. There are detailed sections on bowl and lamp skrying, the sending of dreams, encountering a god, and the Mystery rites for fellowship with the gods. First steps include the invocation of the paredros , the daimon assistant and the correct purity and fasting procedures. Encounter Thesallos of Tralles who persuaded an Egyptian priest to manifest a god for him, and the techniques that his Egyptian priest used to do this.
Egypt was at the heart of magic, and the Graeco-Egyptian papyri are the clearest and most extensive documentation of some of its earliest methods. These papyri were the handbooks of practicing magicians who lived during the first five centuries of this era.
But attempting to read the Graeco-Egyptian magical papyri in Hans Dieter Betz's English translation The Greek Magical Papyri in Translation is a daunting task, as they seem to be in no particular order (except for papyrus number). Furthermore the papyri are a mixture of many different techniques, with minor snippets mixed in with serious and long invocations, many without the basic instructions needed to perform these rites. Stephen Skinner discovered that in the original Greek, then they have a perfectly logical structure, as the scribes have in most cases used a headword to indicate what kind of rite was involved. This headword has however mostly been lost in translation.
What Stephen Skinner has done here is to separate and tabulate each of the 40+ techniques used by Graeco-Egyptian magicians, throwing an enormous amount of light on these very practical texts. In many cases the translator has taken the easy way out and just used words like'spell' or'charm' to translate dozens of different technical words which are necessary for understanding exactly what is going on. Skinner has rectified this by extracting each of these specialist Greek terms for different magical procedures and, showing what they really mean, and has divided up the papyri into its constituent methods, so that the reader is directed to the specific passages relevant to his interest. The result is more than a guide to the papyri, it is a complete survey and explanation of the functioning of the types of Graeco-Egyptian magic, often noting where such techniques appear again in the later grimoires. If you want to understand Graeco-Egyptian magic, this is where you should start. Amulets Calendrical Considerations Composite Rites Daimonic Possession and Exorcism Defixiones Ensouling Magical Statues Evocationary Bowl Skrying Evocationary Lamp Skrying Face-to-Face Encounters with a god Foreknowledge and Memory rites Health Homeric magic and divination. Hymns, pagan Incenses, Herbs and Plants used in magic Invisibility Invocation of the gods and the gods arrival Love Magical Rings and Gemstones Mysteries and Initiation Rites Necromancy Paredros or Assistant Daimon, securing a Phylacteries Procedures for Visions and Dream Revelation Talismans. Check out my other items. & b e sure to add me to your favourites list.
As I will be listing many other Rare & hard-to-find books, artworks and many other items of interest. The item "Techniques of Graeco-Egyptian Magic Deluxe Grimoire Signed Stephen Skinner RARE" is in sale since Wednesday, April 15, 2015. This item is in the category "Books\Antiquarian & Collectible". The seller is "reix718" and is located in Belfield, NSW. This item can be shipped worldwide.
Printing Year: 2014
Year Printed: 2014
Topic: Occult
Binding: Leather
Author: Stephen Skinner
Subject: Religion & Spirituality
Language: English
Publisher: Golden Hoard Press
Special Attributes: Deluxe Limited Edition of 100 copies

---