The Hyperion Cantos by Dan Simmons 4 Volume Signed LIMITED Set Subterranean HC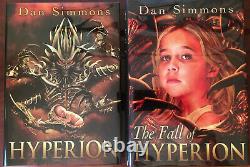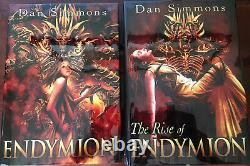 The Hyperion Cantos by Dan Simmons 4 Volume Signed LIMITED Set Subterranean. On offer here is a matching set of four gorgeous limited edition hardcover books constituting the complete'Hyperion Cantos' by legendary author Dan Simmons. The excellent Hyperion Cantos novels top many of the'Best Science Fiction' book lists. These books are all #372 in a limited run of 500.
We're pleased to announce the signed limited edition of Dan Simmons's classic space opera Hyperion. Fans will be thrilled to know that we plan limited editions for the subsequent three novels in the Hyperion Cantos, as well.
Our edition of Hyperion will be an oversize volume, printed on80# Finch, with a dust jacket and full-color end sheets by John Picacio. First published in 1989, Dan Simmons's Hugo Award-winning Hyperion is one of the undisputed classics of modern science fiction. The opening movement of a hugely ambitious multi-volume epic, it is both a masterpiece of pure storytelling and a visionary meditation on the future development of the human race.
The narrative takes place some seven hundred years from now, at a time when humanity has left Old Earth behind and has begun to colonize the worlds between the stars. At a critical moment, with interstellar war about to begin, seven travelers are summoned to a pilgrimage on a distant planet called Hyperion, where ancient mysteries are taking on a new and sudden urgency.
At the heart of these mysteries are the Time Tombs, enigmatic artifacts that appear to be traveling backward in time, and the savage, barbed creature known as the Shrike. Included among these seven pilgrims are a soldier, a poet, a scholar, a priest, and a private detective.
As they make their way toward their destination, they tell each other stories, transforming the novel into afar-future version of The Canterbury Tales. These varied, highly personal tales form the heart of this extraordinary book. Individually, they offer highly developed examples of narrative art. Collectively, they set the stage for the wonders, terrors, and revelations to come.
The result is a remarkable--and durable--accomplishment that remains fresh and exciting more than two decades after its initial appearance. Hyperion, together with its successors, does what only the finest imaginative literature can do: It creates and populates a complex, extravagantly detailed universe more vivid, vital, and consistently enthralling than our own everyday world.
Popular fiction just doesn't get better than this. The item "The Hyperion Cantos by Dan Simmons 4 Volume Signed LIMITED Set Subterranean HC" is in sale since Saturday, October 31, 2020. This item is in the category "Books\Antiquarian & Collectible".
The seller is "cyv68" and is located in Chapel Hill, North Carolina. This item can be shipped to United States.
Topic: Sets
Subject: Children's
Publisher: Subterranean Press
Place of Publication: USA
Author: Dan Simmons
Country/Region of Manufacture: United States
Language: English
Special Attributes: Signed
Binding: Hardcover

---